Freemasons' Hall, Park Street, Bristol
St. Augustine Lodge is one of 38 Lodges, which meet in Freemasons' Hall, Park Street, Bristol BS1 5NH in the centre of Bristol, on designated evenings.
Our Bristol Masonic Lodge meetings are held on the second Thursday of the month and we have a Lodge Committee meeting followed by a rehearsal on the first Thursday (committee meetings commence at 1830, the rehearsal starts at 1915-1930).
St. Augustine Lodge meets in February, March, April, May, September, October, November and December.
Our January meeting no longer exists being that members may have overstretched or indulged themselves over the festive period.
St. Augustine Lodge meetings
St. Augustine Lodge meetings commence at 1830 promptly and typically end around 2015-2030. Members then gather in elegant dining rooms for dinner, often including Provincial guests and visitors from other Lodges. On special occasions non-Masonic guests also attend.
The business of the Masonic Lodge (as is the case for Lodges throughout the world) is to:
Raise funds for charity (Masonic and non-Masonic)
Install new members
Receive information from the Lodge Almoner on the health and needs, of sick or infirm members and the widows of past members
Hear a lecture to enable them to make their daily advancement
Ritual
St. Augustine Lodge Masonic meetings take a ritualistic form and are designed to ensure that all members are reminded that one has a purpose in life. Masonic tools (e.g. squares, compasses and rulers) are utilised to illustrate the way one should live.
Social calendar
In the summer months St. Augustine Lodge arrange social occasions (e.g. barge trips, historic house visits, pub lunches and dinners, skittles tournaments and weekends away) to which friends and family are invited.
Once each year a Masonic Ladies' Evening is held in honour of the members' wives and partners who are invited to dine with St. Augustine Lodge. Ladies' Evening provides the perfect opportunity to thank our wives and partners for the essential support they provide throughout the year.
Click through to the St Augustine Lodge events calendar.
Subscription
A myth surrounding Freemasonry is that only the wealthy can join. Whilst there is an annual subscription paid by each member, generally the amount is much less than one would pay to join a golf club or a gym.
History
Origins
The Warrant for St. Augustine Lodge No. 3108 was granted on 15 April 1905.  It was the result of a petition signed by 23 Brethren of the Beaufort Lodge No. 103 in the Province of Bristol seeking to establish the new Lodge.
The Lodge family tree (Chart 103 – This information is copyright, and reproduced by permission, of the United Grand Lodge of England. Compiled by W. Bro. J.G. Amos, The Earl Amherst Lodge No. 3230) can be viewed here: http://www.staugustinebristol.org.uk/wp-content/uploads/Family-tree-chart-103.jpg
St. Augustine Lodge was established as a musical lodge; the name chosen by the Founders due to the neighbourhood of Freemasons' Hall being closely associated with St. Augustine.
An Augustinian Priory formerly stood on the site of Bristol Cathedral. The Cathedral (dedicated to the Holy Trinity in 1542), was until 1539 the Abbey Church of the Black Canons of St. Augustine. Further, St. Augustine of Canterbury is said to have preached on College Green prior to his conference with the Bishops of the early British Church in the late sixth century.
St. Augustine Lodge was Consecrated on 14 September 1905, when 238 brethren were in attendance.   The Ceremony was conducted by W.Bro. JR Bramble the Deputy Provincial Grand Master and W.Bro. J Mason Gutteridge who had been the Master of the Beaufort Lodge and who became the first Master of the new Lodge.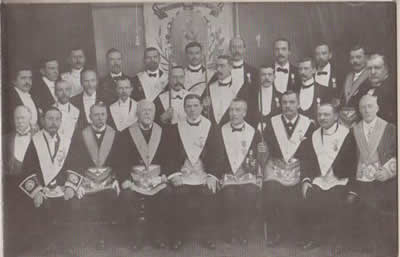 Above: The Founders and Officers presiding over the Consecration of St. Augustine Lodge on 14 September 1905.
Those present are LG Phillips (Steward), F Warner Waite (JW), H Slater Stone (Steward), F Hayman (Steward), HF Banner (Steward), H Pomeroy (Finance), J Parnell (Steward), W Avery Adams (Steward), AJ Blake (Steward), AF Farbrother (Secretary), E Brookhouse Richards (SD), E Liddon Miller (IG), F Gunningham (JD), WT Rugman (Acting IPM and Treasurer), HEC Baker (Steward), WT Toleman (Steward), HE Padden (Tyler), E Spear (DC), AH Jupp (Steward), FJ Brooks (Steward), FC Fawn (SW), A Stear (Steward), W Redwood (Finance), J Mason Gutteridge (WM).
Provincial Grand Lodge Officers JR Bramble (PAGDC) (Eng.) Deputy Provincial Grand Master, WJ Cullimore (PPSGW) as D.C., P Harris (PAGDC) (Eng.) Provincial Grand Secretary as Secretary.
The occasion was marked by the presentation of a Founders Jewel to each Founder Member.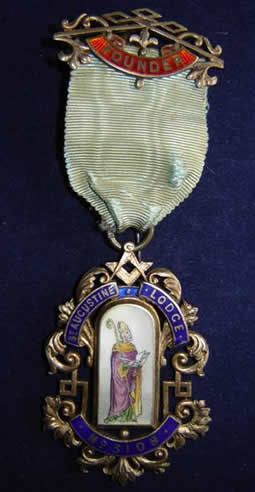 Above: The Founders Jewel featured was that presented to W.Bro. Stear in 1905.
St.Augustine Lodge – Roll of Past Masters
1905 Josiah Mason Gutteridge
1906 F C Fawn
1907 A F Farbrother
1908 F W Waite
1909 E L Miller
1910 W Redwood
1911 Sidney Howard Pomeroy
1912 William Arthur Stear
1913 A H Jupp
1914 W Avery Williams
1915 W T Toleman
1916 Hugh E C Baker
1917 J Brame Lea
1918 John Dale Bennett
1919 Albert Thomas Bullock
1920 Leonard Wright
1921 Frederick James Brooks
1922 Albert Edward Allen
1923 John Clarke Fox
1924 Frederick Kilsby
1925 Andrew Miller-Mitchell
1926 Gilbert William Tonkin
1927 Robert John Victor Warr
1928 Ernest Dale Bennett
1929 Ernest Brookhouse Richards
1930 James Vincent Biddington
1931 Herbert Edward Ricketts
1932 John Stringer Owens
1933 Walter Rosewell Giles
1934 Thomas William Thorne
1935 Samuel George Ernest Davis
1936 Arthur James Spurll
1937 William Gilbert Dudley Harris
1938 Frank Wilson Maddock
1939 John Robinson Cockbaine
1940 Clare Granville Andrews Beavis
1941 Albert Vann
1942 Percival Edward John Higgins
1943 Richard Wallace Foweraker
1944 Geoffrey Terence Ryan
1945 Albert Frederick Waters
1946 Frederick Harold Barton
1947 Thomas Llewellyn Phillips
1948 Robert Leslie Rogers
1949 William Henry Barnes
1950 Lawrence John Gaylord
1951 Herbert Edwin Stephens
1952 Charles Thomas Martin Naish
1953 Edwin Michael Lawson Stear
1954 Samuel Coombes Shapcott
1955 Samuel Coombes Shapcott
1956 Norman Alan Thompson
1957 Harold Henry Miles
1958 Francis Lambson Hannam
1959 Alfred Thomas Stone
1960 Leslie Campbell Tovey
1961 Brian Walter Thomas Pearce
1962 Harry Mettam
1963 Norman Luke Rogers
1964 Arthur Stanley Anderson
1965 Alan Stratton Waters
1966 Griffiths Hawkes Goulstone
1967 Herbert Frank Barrow
1968 Kenneth John Adams
1969 John Thomas Baylis
1970 David Bruce Foweraker
1971 William James Buckland
1972 Graham John Bullock
1973 Allan Edward Pauling Farbrother
1974 Eric Minshall
1975 Peter Neville Cornall
1976 Kenneth Francis Banfield
1977 Maurice Colin Berkovitch
1978 Ronald George Hamm
1979 John Anthony Cox
1980 Richard John Pethybridge
1981 William John Woodman
1982 Thomas James Croysdale
1983 Ian Hugh Mackintosh
1984 George Douglas Day
1985 Michael Henry Huggins
1986 Robert Niel
1987 Norman John Saunders
1988 Michael James Oates
1989 John Anthony Cox
1990 Nicholas John Cox
1991 Norman John Saunders
1992 Robert Niel
1993 John Anthony Cox
1994 John Edward Mason
1995 John Edward Holmes
1996 John Edward Holmes
1997 Henry Clive Vincent
1998 Dudley Paul Saward
1999 Henry Clive Vincent
2000 Michael Thomas Wheeler
2001 Gary Bruce O'Connor
2002 Michael James Oates
2003 John Edward Mason
2004 Maurice Colin Berkovitch
2005 Gary Bruce O'Connor
2006 Gary Bruce O'Connor
2007 Ronald George Hamm
2008 Michael Anstis
2009 Michael Anstis
2010 Ronald George Hamm
2011 Michael Henry Huggins
2012 Paul Malcolm Banfield
2013 Peter John Wise
2014 Michael Henry Huggins
2015 Henry Clive Vincent
2016 Henry Clive Vincent
2017 Peter Alastair Balchin
2018 Christopher Arthur Murray
2019 Michael Keith Daburn
2020 Michael Keith Daburn
2021 Michael Keith Daburn
Records
Regrettably, the St. Augustine Lodge records are incomplete. The two earliest minute books and consequent early history of the Lodge are missing.  So are numerous Lodge artefacts from those primary years.  It is believed that the minute books and artefacts were destroyed during the Blitz in 1940, which destroyed the former Masonic Hall in Park Street. The first record therefore dates from the 256th Regular Meeting, which was held on 11 January 1934.
The Lodge 'Roll of Members' is intact and complete.  The Lodge therefore has a complete record of its membership since Consecration.  These records were likely in the possession of the St. Augustine Lodge Secretary (and stored elsewhere) at the time of the Blitz, thus being saved from the wartime destruction.
St. Augustine Lodge Artefacts
At the Meeting held on 13t December 1945, the acting W.M. W.Bro. GT Ryan announced that to commemorate the 40th Birthday of St. Augustine Lodge, the 25th Anniversary of his Initiation into St. Augustine Lodge and his period of Office as Worshipful Master, W.Bro Ryan would present a Silver Trowel for use in one of our ceremonies. The trowel had originally been presented to his grandfather, a vicar in Bradford (Yorkshire), who had been the first Bishop of Mauritius (after laying the foundation stone for an orphanage in Bradford).  The engraved trowel is a treasured artefact and kept with the working tools of the Lodge.
Above: W.Bro. Ryan's trowel. The silver trowel is engraved as follows:
(front) Presented to The Right Reverend Bishop Ryan on the occasion of his laying the foundation stone of the Bradford orphanage July 5 1870.
(back) Presented to St. Augustine Lodge No. 3108 by GT Ryan W.M. 1944 – 45.
St. Augustine Warrant
On 13 May 1948, the Deputy Provincial Grand Master W.Bro. WW Jervis expressed his pleasure in handing to the W.M. the confirmation of the Lodge Charter Warrant, which had been issued by Grand Lodge to replace the original Warrant lost in the destruction of the Masonic Hall, Park Street, Bristol during the Blitz of 1940.
The War years
The minute books for St. Augustine Lodge record the close association formed during World War II with the Brethren of St. Augustine Lodge No. 99 in New Zealand (e.g. 13 March 1947 sale of the contents of the third gift parcel from the Brethren of St. Augustine Lodge No. 99, which was auctioned and realised £4. 7s. 6d. in aid of local Masonic charities).
Subsequently, a Gavel wrought from timber salvaged from the ruins of St. Augustine Lodge Masonic building in Bristol, together with a level from the remains of an apron also recovered in the ruins were mounted on a base. This was suitably engraved and together with a copy of a book 'Bristol Bombed' was sent to the W.M. and Brethren of St. Augustine Lodge, Christchurch, New Zealand, as tokens of gratitude for the many gift parcels sent during the War years.
Post War
Like the other Lodges in the Province of Bristol, the St. Augustine Lodge played its part in assisting the efforts to rebuild the Masonic Hall in Park Street. At Regular meetings during 1954 the Brethren of the Lodge donated sums of money to provide further accommodation required by the Province of Bristol. The St. Augustine records indicate that that providing sufficient funds were available, the Park Street Masonic Hall would be rebuilt. Initially the sum of £150 13s 7d was contributed and subsequently sums of £200 and £149 6s 5d; substantial sums at that time.
Venues
The principal venue for regular meetings of St. Augustine Lodge has been the Masonic Hall, Park Street, Bristol since St. Augustine was consecrated in 1905. The practice was interrupted when the building was gutted by enemy bombing on the night of 24 November 1940. There then followed a succession of meeting places:
Staple Hill Masonic Hall BS16 (13 May 1941 –

9 September 1941

)
The Constitutional Club, St Stephen's Street BS1 (9 April 1942 – 8 May 1947)

Hawthorns Hotel BS8 (11 September 1947 – 14th May 1953).

Masonic Hall, Brunswick Square BS2 (11 September 1954 – May 1957).

Masonic Hall, Park Street BS1 (12th September 1957 – date)
Centenary
St. Augustine Lodge celebrated its centenary on 13 October 2005. On the occasion, St. Augustine Lodge was honoured with the presence of the Provincial Grand Master for Bristol R.W.Bro. M.J. Flynn and the Deputy Provincial Grand Master of Bristol V.W.Bro. A.J. Vaughan together. 
During the proceedings, the Provincial Grand Master presented to the WM the Centenary Warrant and a Centenary Jewel to each member of St. Augustine Lodge.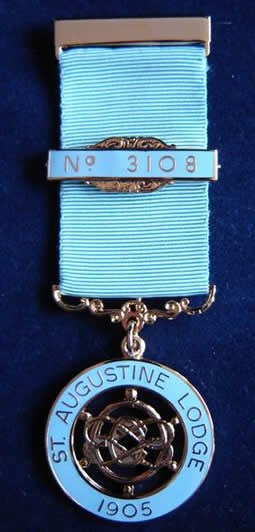 Above: The St. Augustine Centenary Jewel.